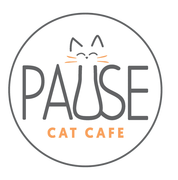 The story of Pause Cat Cafe
Our kitties are very friendly and welcoming to efurpawdy, and have been known to hop aboard wheelchairs!
We love everybody even if you are unique and we think everyone should be able to take a moment to relax and spend time with our rescue kitties. 
Our ground floor cafe area, kitchen and toilet are all accessible for wheelchair users, and we have a lot of different seats, so there is somewhere for everyone! We are seeking funding to have the cat care areas and basement adapted to suit everyone in the near future. 
Many of our team have learning difficulties and disabilities so we understand how important it is for everyone to be able to have the same chance to make amazing memories with our kitties!
If you are on the autistic spectrum, struggle with sensory processing or have concerns about crowds, let us know before your visit and we can make things easier by letting you know of our quieter times in the cafe or meet you outside to give you our introduction talk. We want to make sure that your visit is as comfortable as it can be. 

If you would like to know more about what our cat cafe is like before your visit with us, then you might like to watch our video to check out in advance what you can expect.
If you have any questions about accessibility, inclusivity or extra needs then we would love to put your mind at ease, chat with us by calling 01202 240194 and we will be happy to help in any way we can.